Regular price
Sale price
$72.00 USD
Unit price
per
Sale
Sold out
If you love dainty skulls, this is your ring. Hand carved in sterling silver, extremely light and comfortable, this mini skull is detailed with two spiders crawling around.
FREE SHIPPING on orders over 150€
DETAILS

Sterling silver
Weight = 2,75 g (US 7 -

may vary according to size

)
Hallmarked
Ring Size
Shipping Policies
Return Policy
Legal Compliance
Share
View full details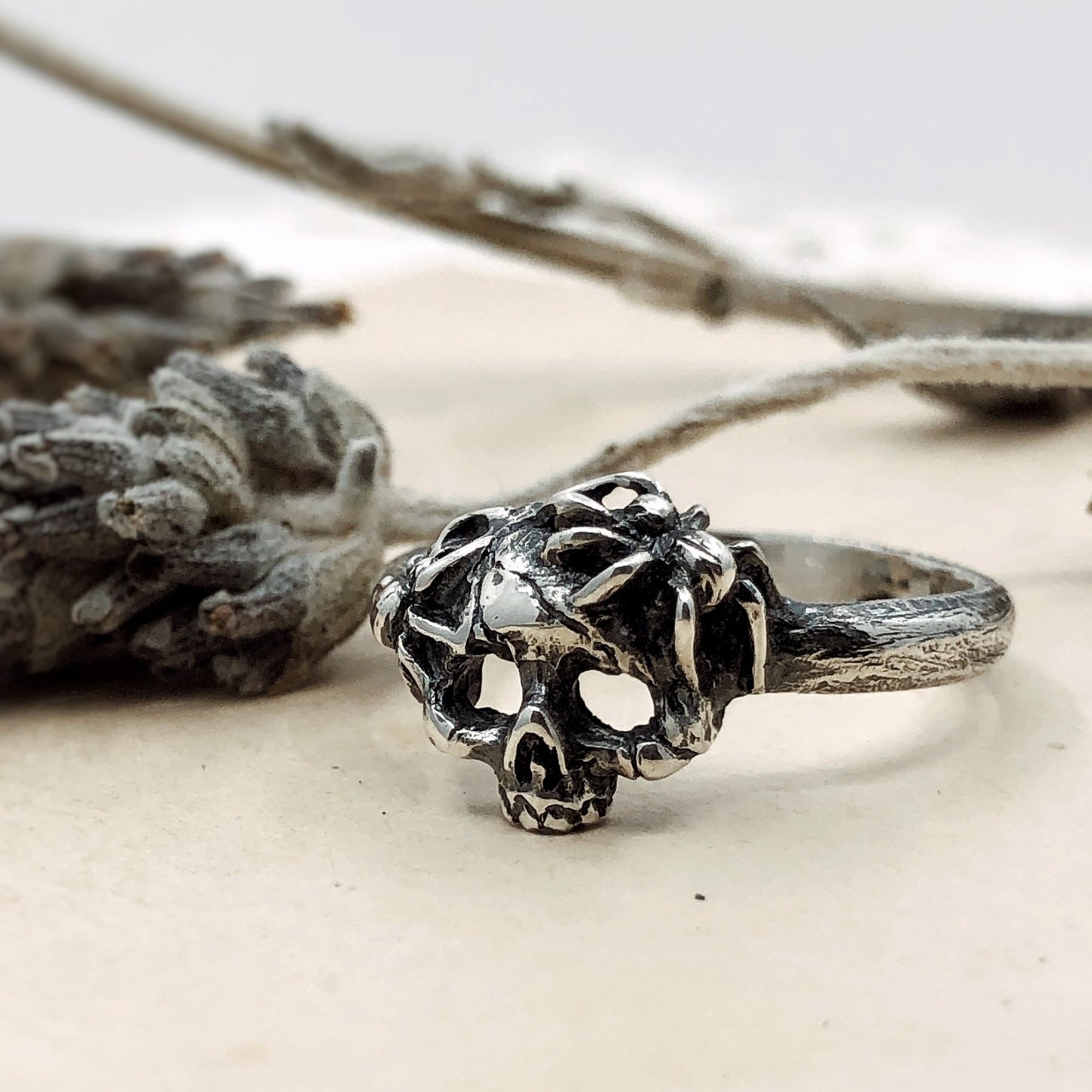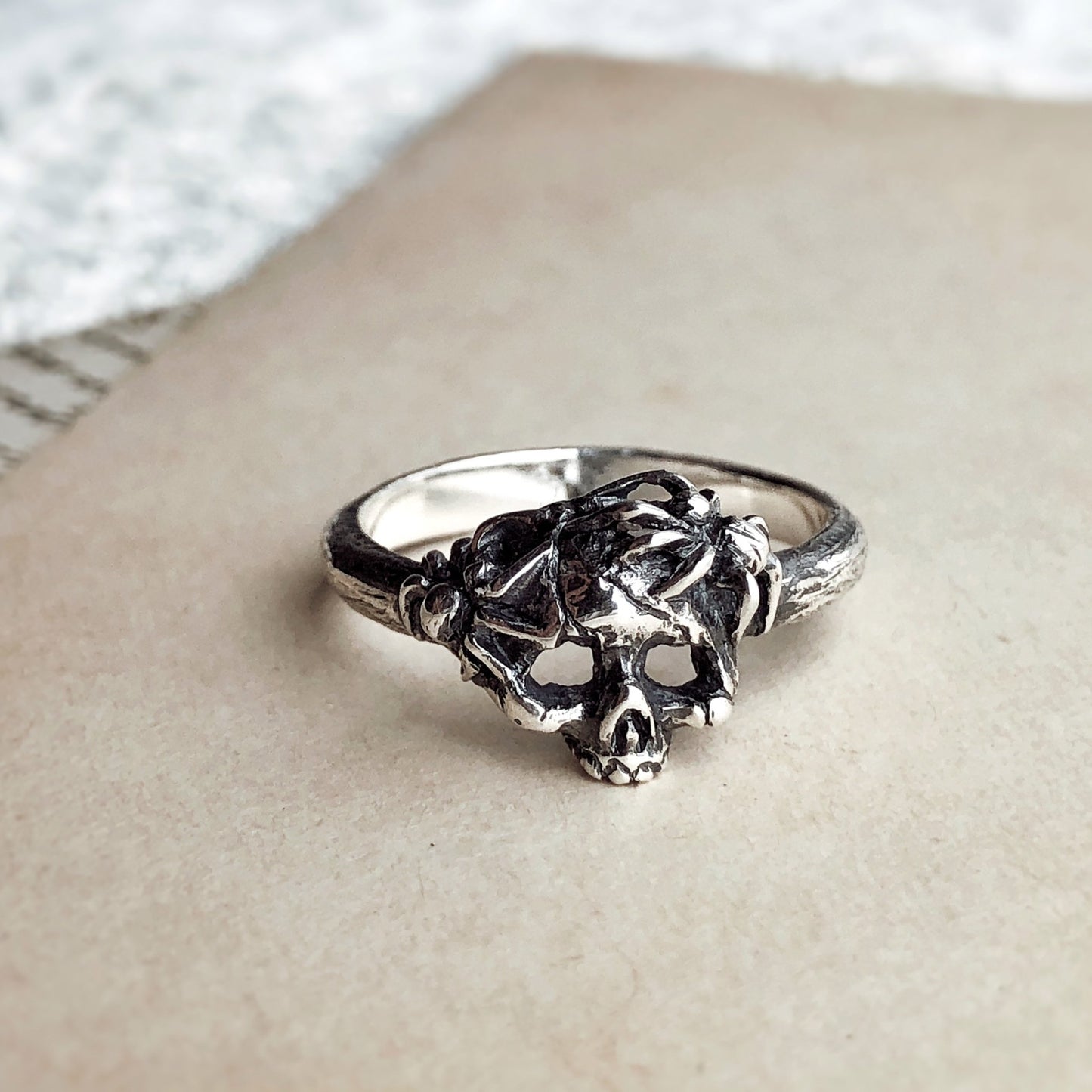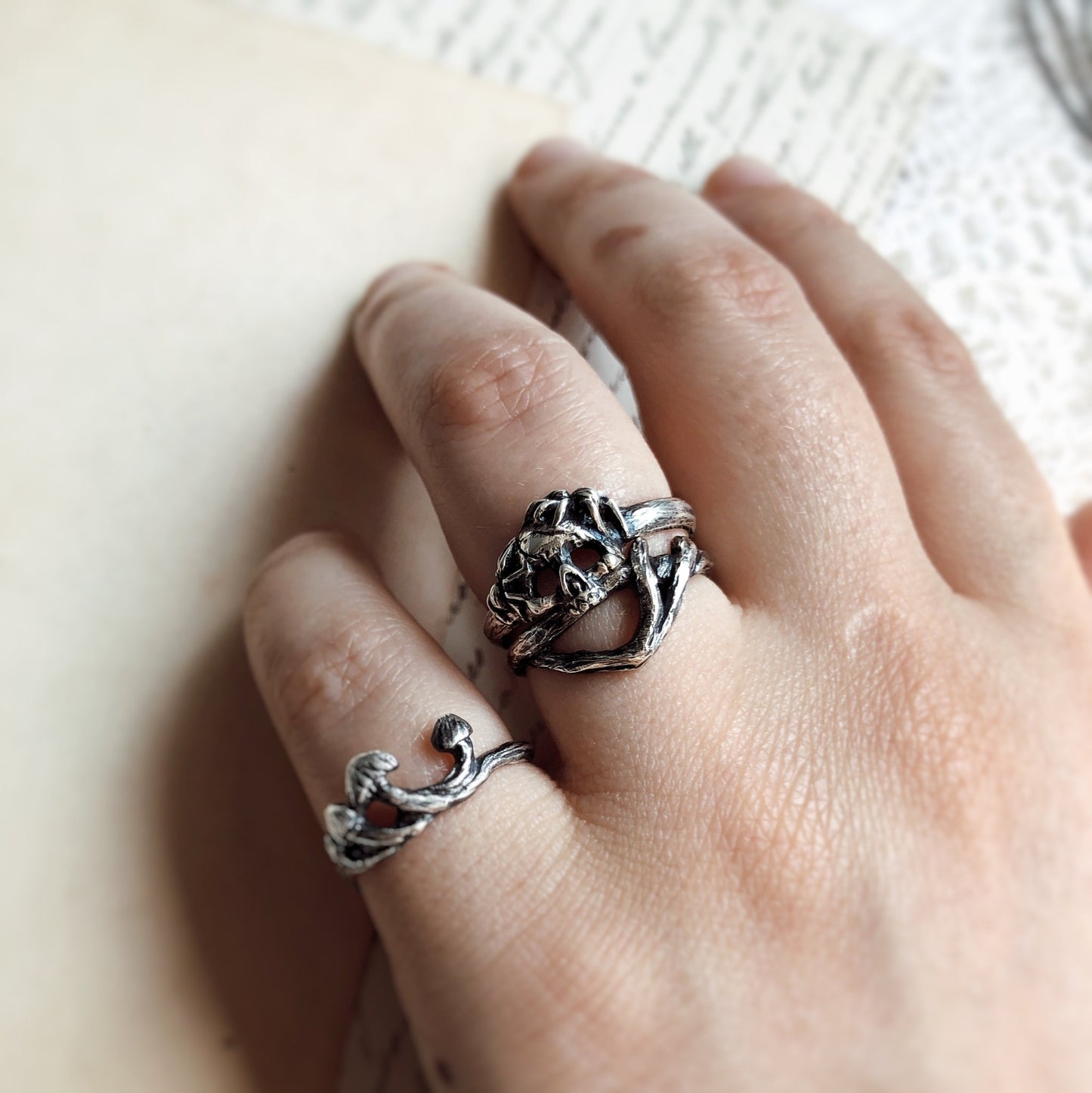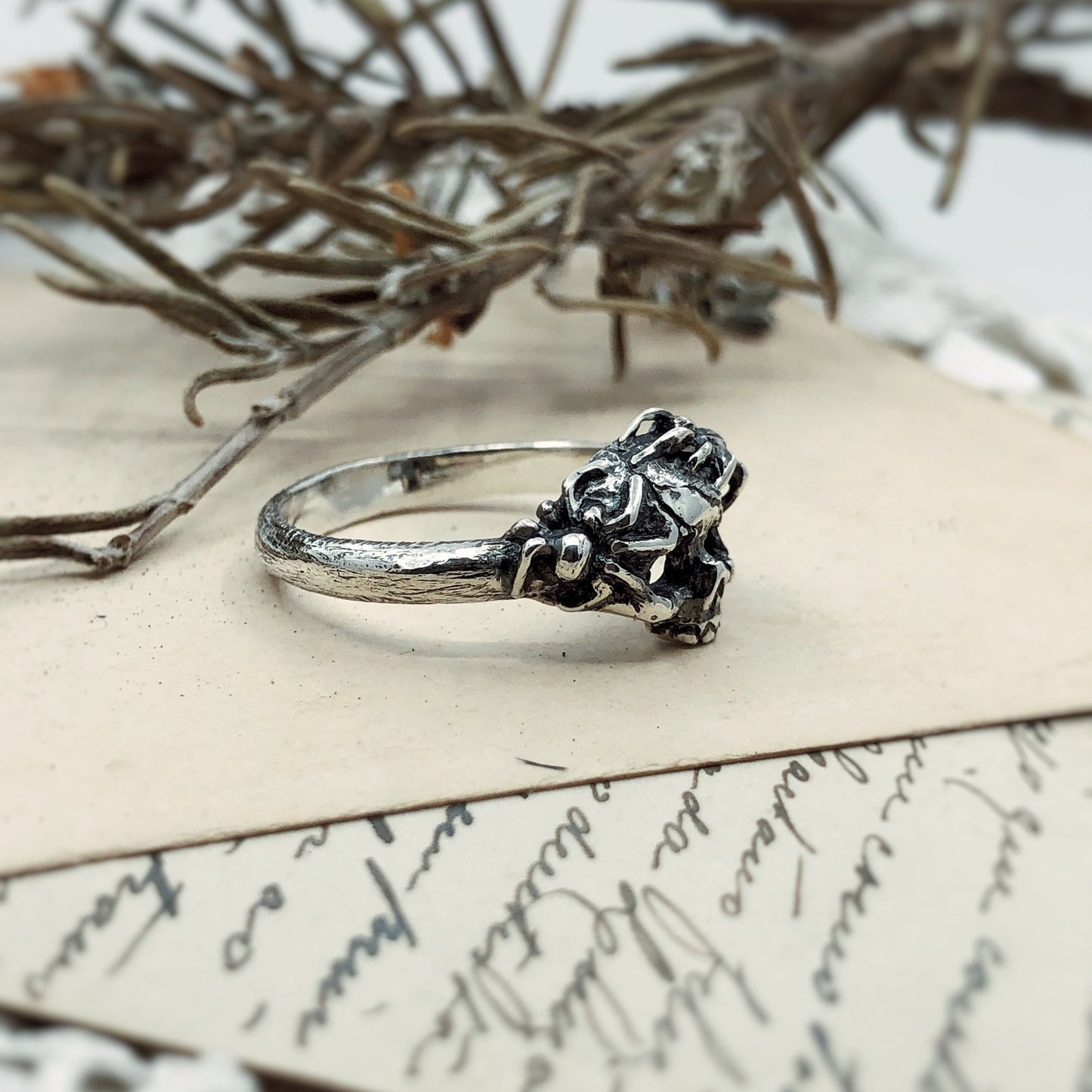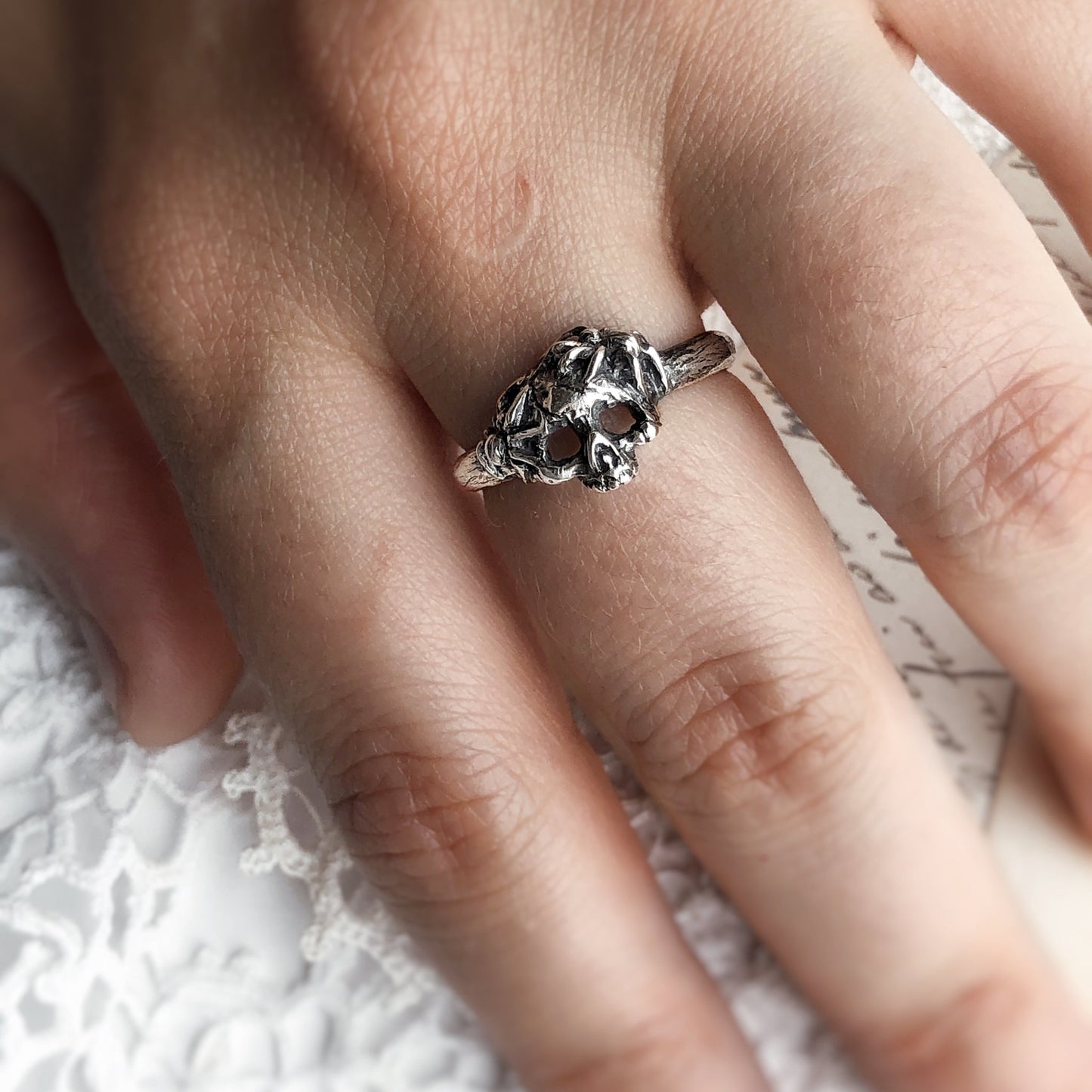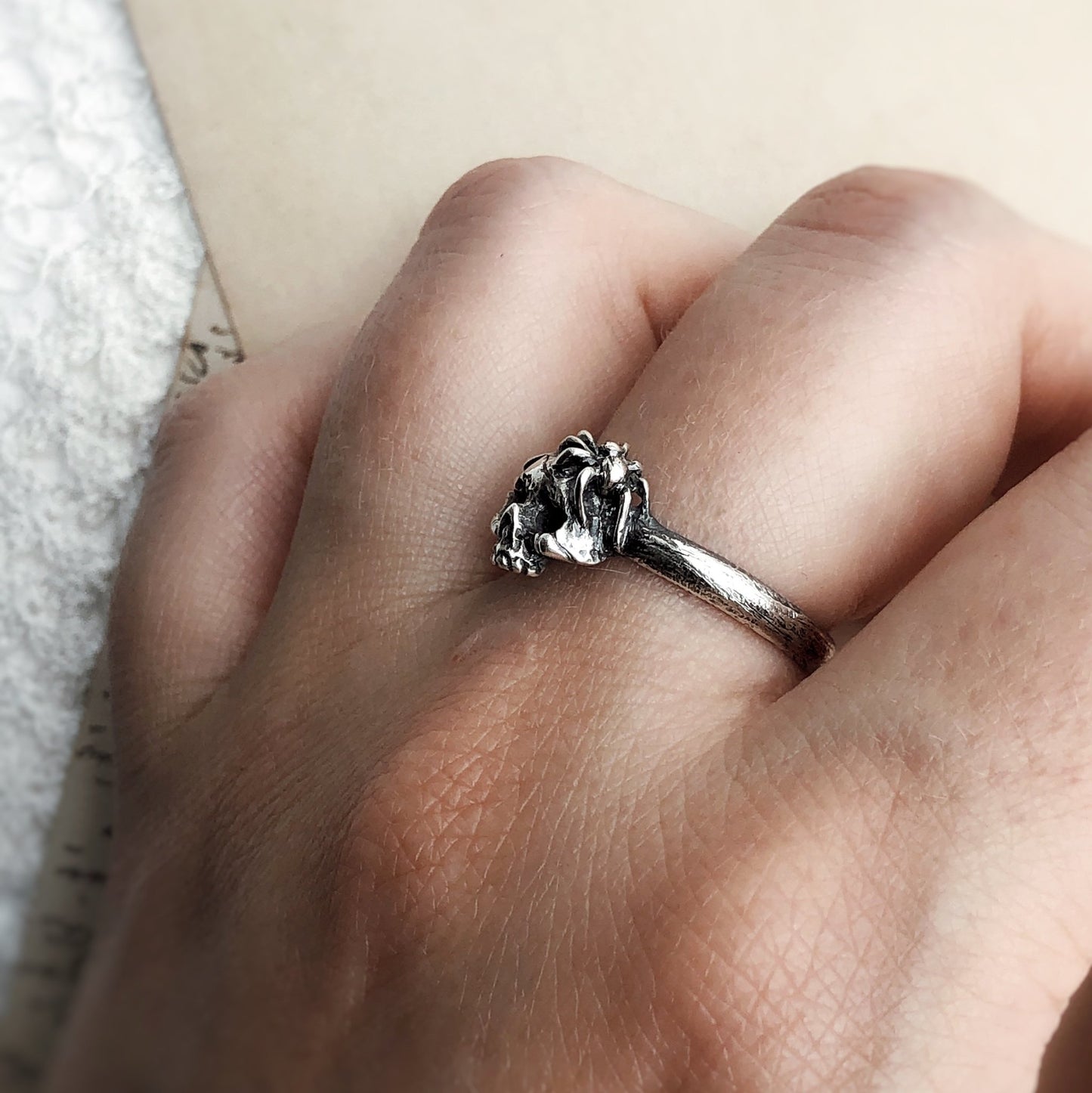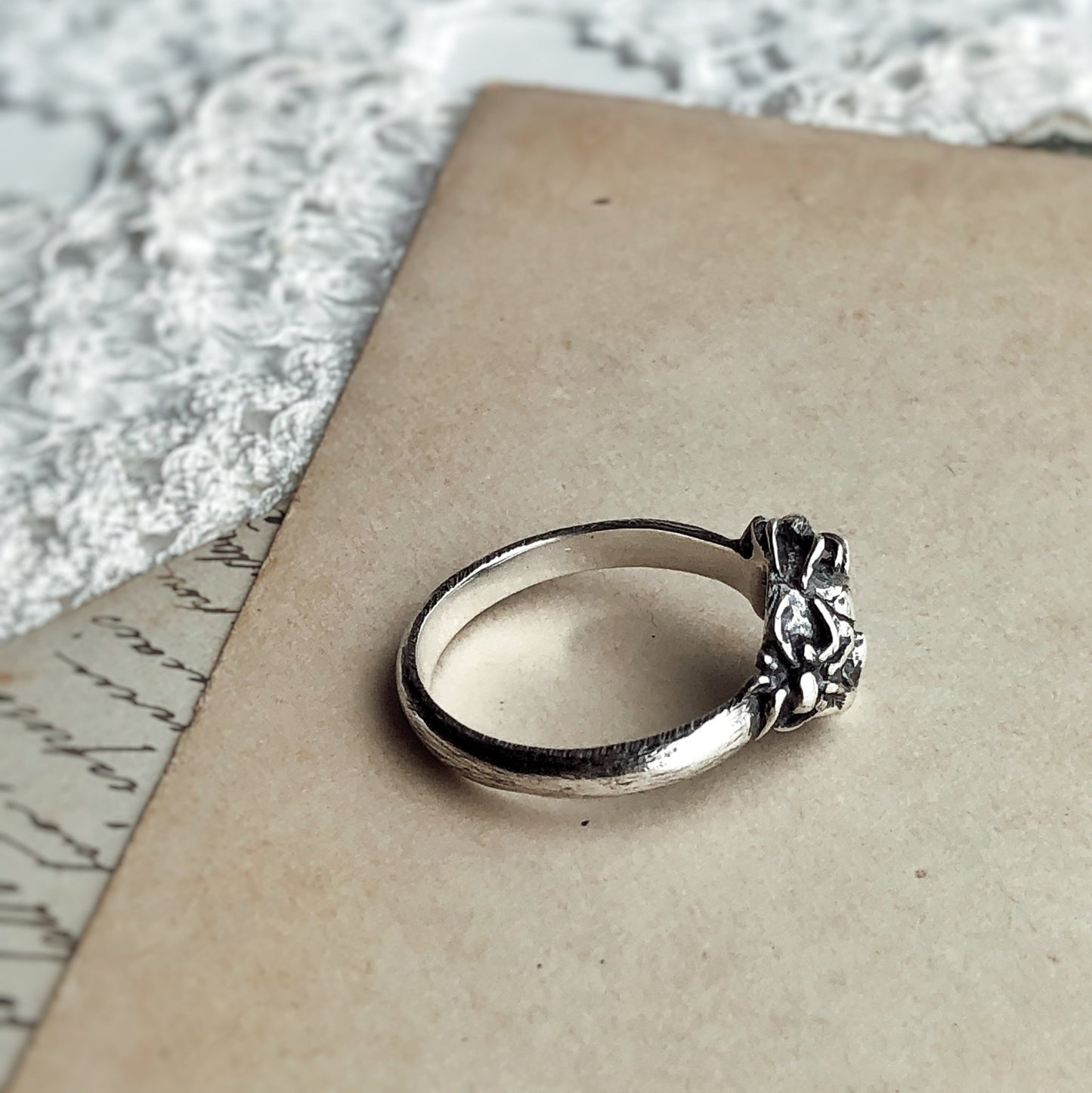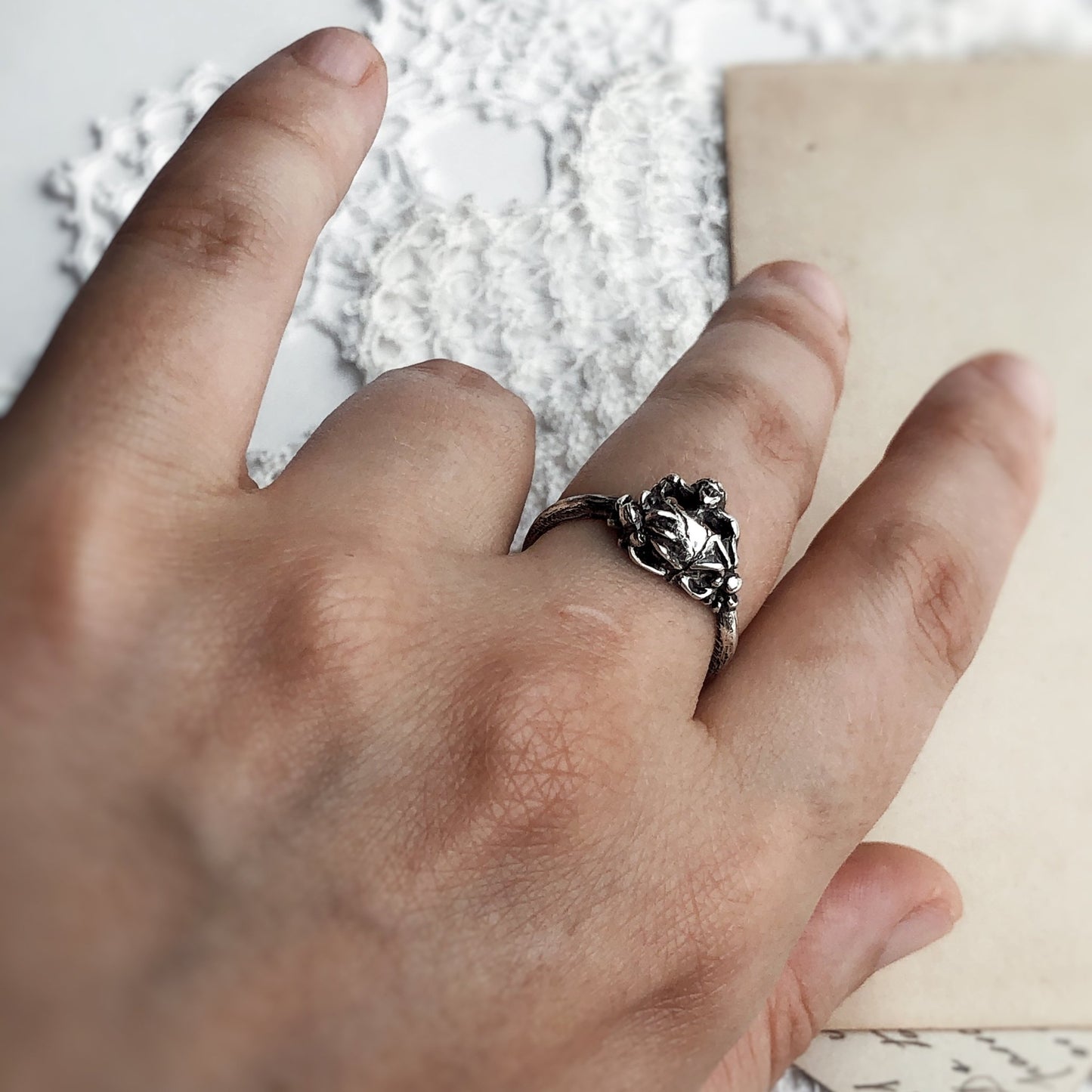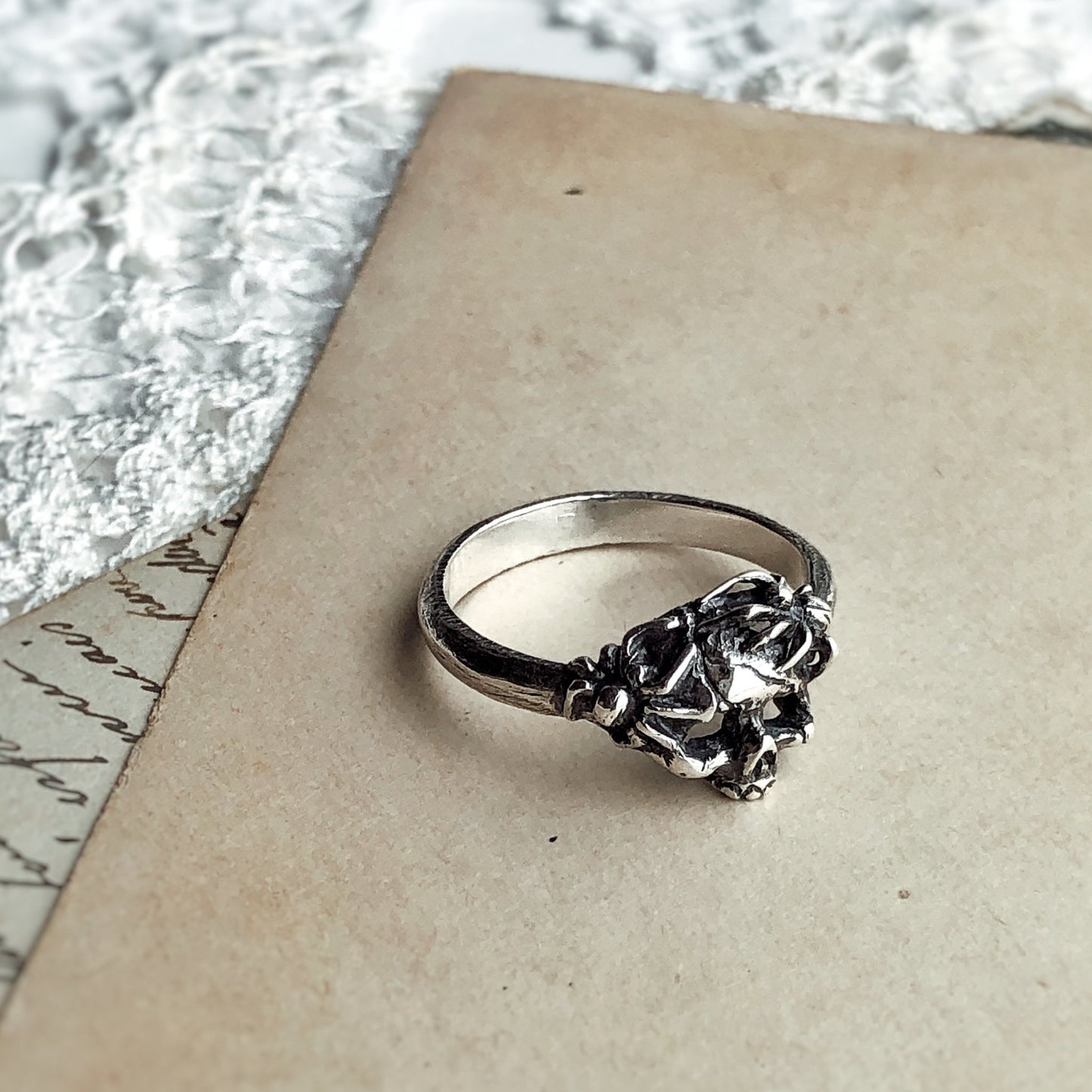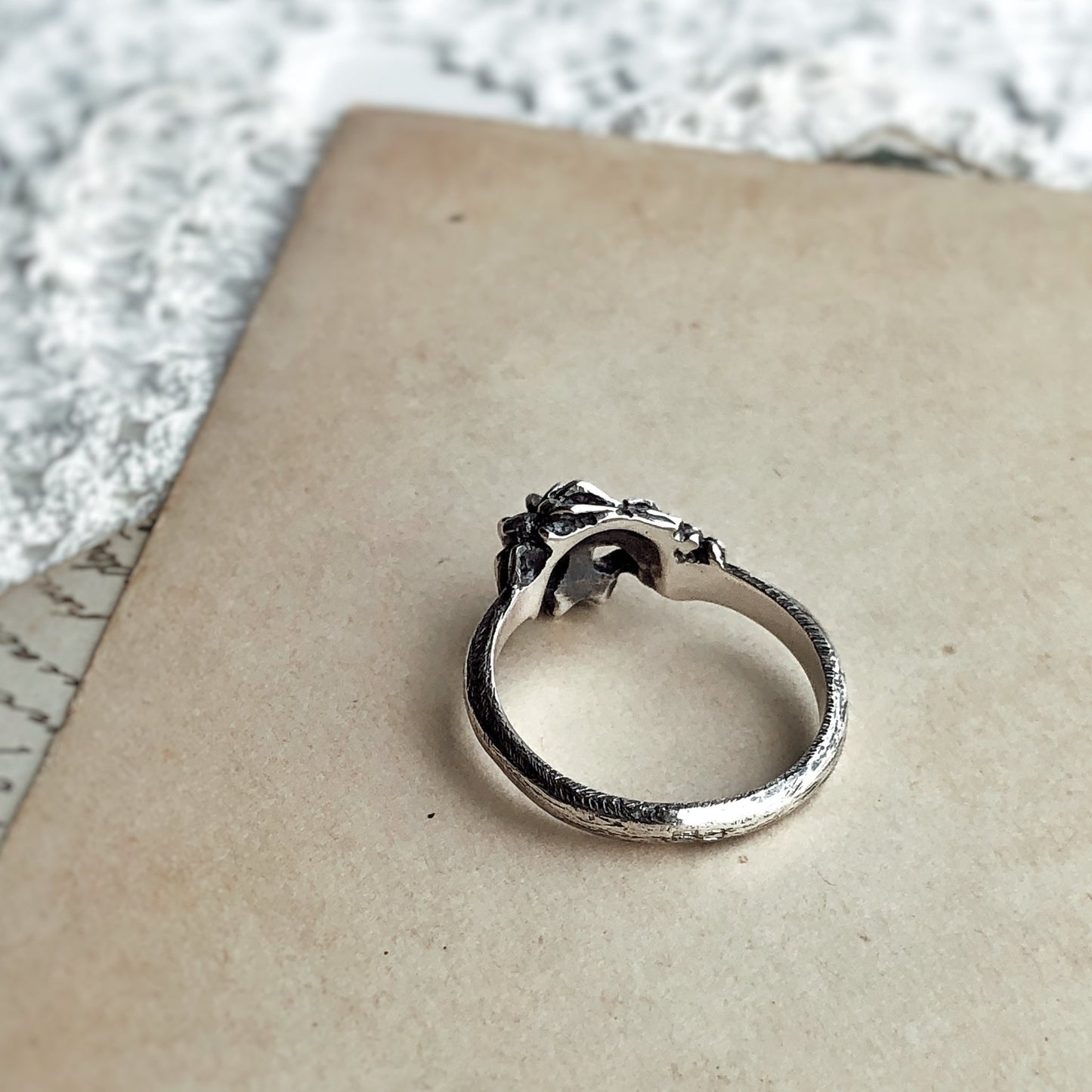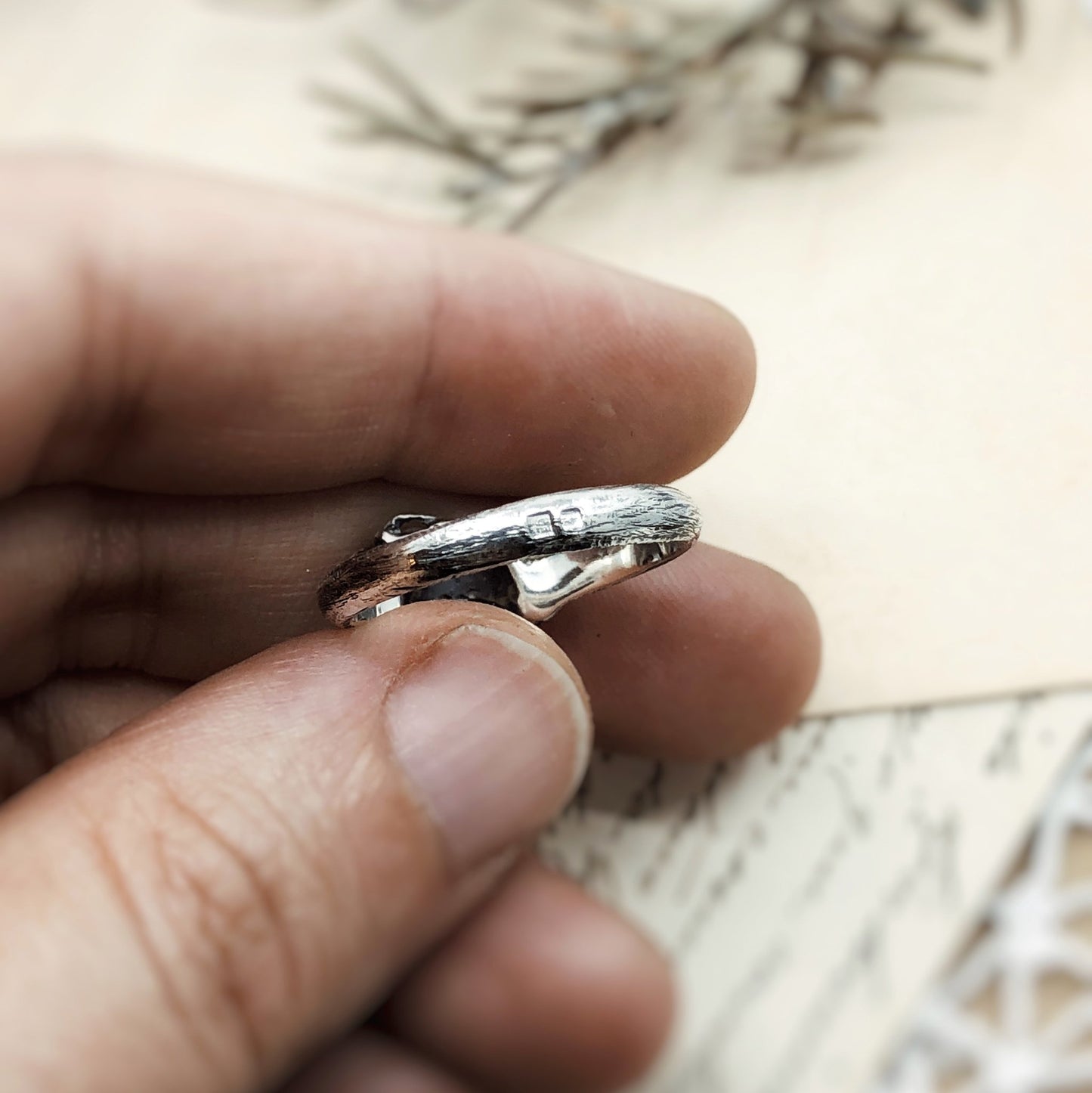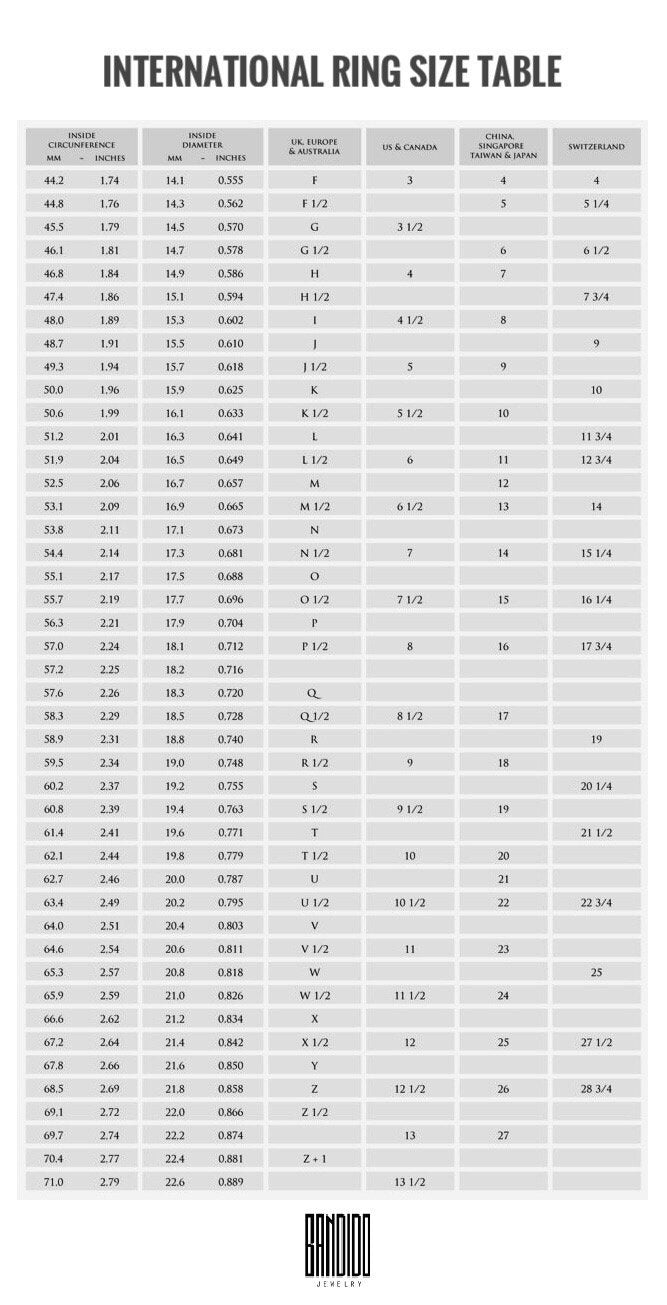 Ring Size
ALL ABOUT RING SIZES
All rings can be adapted according to your specifications.
The size options provided are US and Canada standard ring size options.
If you're not from the USA, please check the image with the International Ring Size Table for the equivalent.
 
HOW TO FIND MY SIZE
Not sure of your ring size? No problem!
Option #1 - Find your ring size from a ring you already own here.
Option #2 - Find your ring size through the paper strip method, follow the instructions here.
If the ring you're buying has a wide band, use a wide band ring as a reference (option 1) or use a wide paper strip (option 2). Usually, this type of ring needs to be half a size bigger than the usual to be comfortable.
To avoid issues, be very mindful measuring your finger when shopping for rings online. The ring should be just large enough to go over your knuckle but fit snug enough so it's comfortable and doesn't fall off. Keep in mind that there's a different size between hands as well.
For additional information don't hesitate to contact me at info@bandidojewelry.com
Shipping Policies
ALL ABOUT SHIPPING
All orders are free shipping.
PROCESSING TIMES
The time I need to prepare an order for shipping varies.
If the item is marked as "In stock" means it's finished and takes 5 business days to process the order.
All items marked as "Custom Fit" are made especially for you and this process takes 30 days to finish.
For more details, see my FAQ page, individual items or contact me at info@bandidojewelry.com.
CARRIER
Due to restrictions regarding the shipping of precious metal jewelry from Portugal as well as issues due to Covid 19, all my pieces are shipped by carrier, no exceptions.
Portugal: Corrida do tempo.
All the deliveries have an extended delivery time so be sure to ship it to where you know someone is able to get it. Your work place is also a good option. I will add your phone number to shipping so you can be contacted if needed. Link for tracking will be provided.
International: DHL Express.
An express delivery ensures your package is delivered within an exact time frame and it allows you to know exactly when to expect your package. This service offers you flexibility, you can choose where and when your shipment is delivered, reducing the number of failed delivery attempts. You will also be notified about the journey your shipment is making notify via email and sms.
DHL Express is a premium shipping option and also delivers on Saturdays.
ESTIMATED SHIPPING TIMES

Domestic - Portugal: 1 day (Corrida do Tempo)
Europe: 3 days (DHL)
United States: 5 days (DHL)
Canada: 7 days (DHL)
Rest of the world: 15 days (DHL)
I'll do my best to meet these shipping estimates, but cannot guarantee them.
CUSTOMS AND TAXES
For all my European buyers the consumption tax, Value Added Tax or VAT of
23%
is included.
For my International buyers, it's
their responsibility
to pay for customs and import taxes that may apply.
I'm not responsible for delays due to customs.
If you need any extra info, there's a FAQ page or you can always reach me at info@bandidojewelry.com as well as on any social media platform.
Legal Compliance
ALL ABOUT LEGAL COMPLIANCE
All of my pieces are made with precious metals, mostly sterling silver and 9k gold,  except those clearly identified in the description. All pieces are Hallmarked, giving you peace of mind that the silver and gold you bought is genuine and has been tested and certified.
PRECIOUS METALS PRICES
ASSAY OFFICE MARKS
All items are tested and marked by the portuguese official assay offices at Imprensa Nacional da Casa da Moeda, thus ensuring the legal fineness of precious metals and the legal compliance of articles so that they can be put onto the market is attested.
These are the new assay office marks that came into force on force on January 2021. For the previous marks enter here.
In Portugal, we don't use the typical 925 mark. Instead, we have a symbol that varies according to the metal:
Gold – ram's head facing right, for 750, 585 or 375 rings and a ram's head facing left, for 999, 916 or 800 rings.
Silver – rabbit head, turned to the left, for the 999 and 925 rings and a rabbit head, turned to the right, for the 835, 830 or 800 rings;
Platinum – hummingbird head, turned to the left, for the 999, 950, 900 or 850 rings;
Palladium – lynx head, turned to the left, for rings 999, 950 or 500.
For more information: Informação ao Consumidor.
ACTIVITY CERTIFICATE
T2022
TAX NUMBER
PT231919050
ECONOMIC OPERATOR
Inês d' Assunção Ferreira Constantino Henriques
Rua da Eira 59, 2º dto
1495-050 Algés
RESPONSIBILITY MARK
Responsibility marks consist of an engraving with a unique and exclusive design, accompanied by a letter, in my case the letter I. They are used to identify the organization or the artist responsible for placing the article of precious metal onto the market.
My design is:
For my Portuguese buyers:
Livro de Reclamações is available.
In case of dispute, the consumer can contact Entidade de Resolução Alternativa de Litígios de Consumo: